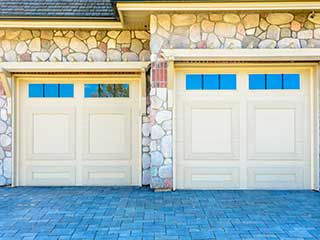 When you're faced with the responsibility of buying a new garage door, the sheer number of choices available to you can be staggering. The following is an informative summary of the differences between the three most common materials. Hopefully, this will help guide you towards making an informed decision.
The "Right" Material
There are a few different materials that your garage door can be made of, each with its own distinct advantages and disadvantages. Each can be a perfect choice, depending on your specific needs. From insulation qualities to weight and strength, the choice will depend on a variety of factors you'll need to consider carefully before deciding.
Wood Garage Doors
Wood is often a very popular choice with many homeowners, mostly due to its rustic visual appeal. Doors made from this material have a more classic, country appearance, which can nicely complement many homes with other wood features, such as cedar shingles, wood boarding, and log or even stone siding. It's also interesting to know that wood is surprisingly durable and versatile. However, it does require more maintenance than other materials in order to be preserved. Regular repainting, for example. Wood can also be relatively heavy, which means your opener will need to be able to produce enough horsepower in order to support it.
Steel Garage Doors
Doors made of this material are known for being extremely strong and durable, which means they can provide your home with an added measure of security. As far as maintenance goes, some regular application of rust-resistant coating is usually required, as steel doors are susceptible to corrosion. Therefore, they may not be a great choice for moister climates. They are also quite heavy, and your opener will need to be able to handle them properly.
Aluminum Garage Doors
These are the traditional looking doors. Aluminum is usually preferred for its relatively low price and extremely low maintenance requirements. The main downside it presents is in durability. Aluminum can dent and become damaged much more easily, and therefore isn't a great choice for areas with strong winds and hurricanes.
Contact our team at Garage Door Repair Rockwall to have our experts assist you in making the perfect choice for your home.