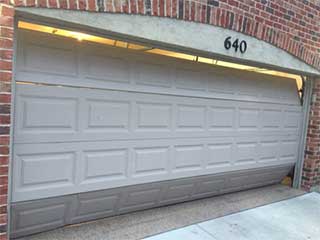 The garage door tracks host the rollers and guide the movement of the door. There are usually two tracks on each side of your door, one vertical track and one horizontal. The two are connected to guide the door through its whole path. Needless to say, their condition must be optimal in order to ensure the smooth and safe movement of your door. When something goes wrong, the door could actually end up collapsing, so it's important that you contact our experts for any type of track related issue you're experiencing.
Possible Track Problems
If these components become misaligned for some reason, the door may start making scraping noises, or if your door's movement seems to have become impaired somehow, something is very likely wrong with the tracks. Garage door track realignment typically involves repositioning the hardware pars and tightening of the bolts that hold the different components in place. Since their proper alignment is crucial to the optimal performance of your system, it's best that you contact our team and have our technicians perform it for you.
Cases Requiring Track Replacement
When a track has become severely bent and cannot be repaired, it will have to be replaced. Broken tracks require replacement as well, obviously. Even though these garage door parts are usually made of galvanized steel which is resistant to corrosion, road salts can damage their protective coating and expose the metal underneath to moisture. If rust is not removed in a timely fashion, the corrosion process may cause serious damage which could not be repaired. In such cases, track replacement becomes necessary.
Professional Assistance is Required
Once again, these components require an expert's delicate approach in order to be installed properly. Your safety could depend on their correct alignment, so it's best to give our team at Garage Door Repair Rockwall a call to get things done perfectly.