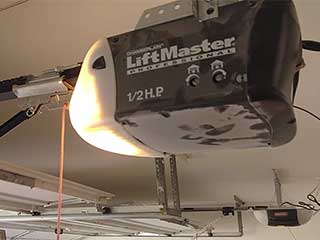 In order to be able to use a garage door automatically, an opener must be installed. This is an electro-mechanical device that operates similarly to a car motor. It is attached to a trolley and pulleys via some type of drive-system, which he uses to pull and push the door open and closed.
The Different Types
There are three main types of drive systems modern openers use today. The screw-drive units use a threaded rod which twists in order to push the trolley and move the door. Models of this type require a minimal amount of maintenance and have a moderate to lower noise output. Chain-drive openers use a chain to achieve the same goal. They are very strong and affordable, but also quite noisy and require a lot of maintenance and adjustment. As for the belt-drive units, they operate similarly to ones who use a chain, and therefore also require a significant amount of maintenance, but the smoothness and silence of their operation makes it worth it. They can be a little on the pricey side as well.
Common Opener Problems
Because this is both a mechanical and an electrical device, there is a great variety of issues that can occur. The most common ones are motor gears that wear out and sections of the circuit board that either become detached or get fried due to some electrical issue, such as an unexpected power outage. No matter what type of problem you may be experiencing, you can rely on our team to provide you with an effective solution.
Choosing The Perfect One
Finding an opener that is a perfect fit for your door and home can be exhausting. Oftentimes, the sheer number of choices available can feel disorienting, which can make many homeowners dread it. Not to worry, our experts will gladly answer any questions you may have and help you find a model that matches you in terms of features, noise output, horsepower capability and many other factors that often go unconsidered.
Count On Us
At Garage Door Repair Rockwall, we have a great deal of experience both dealing with every type of opener-related problem, and installing these complex units without compromising their ability. Our experts can help you find the perfect model for you, as we work with all the main name brands, such as Liftmaster and Genie, and can make sure that you get whatever special features you need. Call us today.
You can also count on us for:
Remote Opener Clicker Replacement
Opener Sensor Replacement
Door Opener Troubleshooting Services
Liftmaster Garage Door Openers