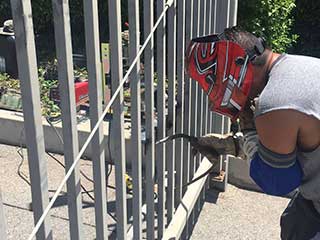 If you've noticed your electric gate no longer closes or opens as smoothly as it did when you first had it installed, there can be a wide variety of reasons behind its malfunction. When this happens, you need to contact our team right away. Trying to temper with a malfunctioning gate can be extremely dangerous, not to mention you could potentially worsen the situation by damaging it further.
Power Supply Problems
The most common issue is problems with the power supply. The circuit breakers will need to be checked as well as other outlets to see if they are still functioning properly. Since this means dealing with electricity, a professional's assistance is required. It also might be possible that your ground fault interrupt has gone out. This can disrupt entire electrical circuits, not just singular outlets. Count on our team to replace it if that proves to be necessary.
Gate Opener Issues
Usually, if a shortage of power is not the cause of the problem, the fault could lie in the gate's opener. This unit harbors the motor that powers the gate's operation, and therefore it could suffer from a variety of both mechanical and electrical problems, ranging all the way from worn out motor gears to fried circuit boards. Its drive system could also be the cause of many different problems. Whether your opener uses a chain or a belt or any other type of drive, our team can repair or replace the damaged component and restore its normal operation.
The Safety Sensors
Another common issue is misaligned sensors. These delicate photo-electric eyes can become misaligned, which can prevent the gate from closing, as the opener will "think" there's something blocking its path. Our technicians can carefully realign them and make sure your gate returns to its normal working condition.
Count On Us
Garage Door Repair Rockwall provides both commercial and residential gate repair and installation services. If you think your gate is slowing down for some inexplicable reason, or that any of its components have broken, our team can certainly help. No problem is too big or complex for our technicians. Call us today.
But wait, there's more! We also offer:
Program Doorking Intercom
Automatic Gate Troubleshooting